Ferrari 296 GTB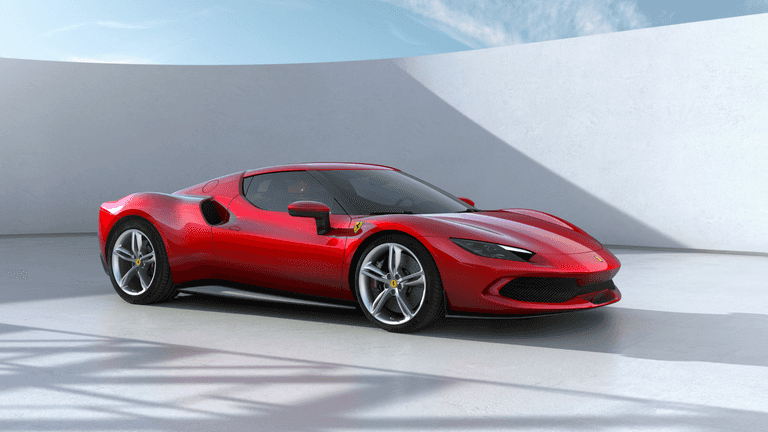 The 296 GTB is the latest evolution of Ferrari's mid-rear engined two-seater sports berlinetta concept. The car is revolutionary technically as it introduces a new 120° V6 engine to the Maranello range, coupled with a plug-in (PHEV) electric motor capable of delivering a maximum of 830 bhp. However, it is also revolutionary from a design and aerodynamic point of view, with innovative shapes and solutions that break with the past. The car can thus provide incomparable driving thrills either when you are on the circuit and looking for maximum performance or in everyday driving.
Engine

Its structure means that the turbochargers can fit within the "V". This helps it achieve extraordinarily high power levels (663 hp). The Ferrari V6 also sets a record of 221 hp/l for specific torque output for a production car. This architecture is rooted in the Prancing Horse's incomparable racing experience: the first Ferrari to fit a mid-rear V6 was the 246 SP in 1961, which won the Targa Florio that year and in 1962. Also, in 1961, Ferrari claimed its first Formula 1 Constructors' title with the 156 F1 powered by a 120° V6. Ferrari installed mid-mounted turbos on the 126 CK and then on the 126 C2, which in 1982 became the first turbocharged single-seater to win the Formula 1 World Championship. The triumphant 126 C3 followed hot on its tails in 1983. Finally, the V6 PHEV turbo architecture has been shared by all Formula 1 cars since 2014.
Vehicle Dynamics
The dynamic development of the 296 GTB aimed to increase the car's performance, provide top-of-class driving fun, and improve the usability of its performance and hybrid layout. A range of new components or features have been developed, such as the first-ever 'ABS evo' controller and grip estimator integrated with the EPS. The usability of performance is critical on the 296 GTB: for example, electric driving in eDrive mode enables the car to reach a speed of 135 km/h without the aid of the internal combustion engine. In the Hybrid position, the internal combustion engine supports the electric motor only when higher performance is required. Stopping distances on dry surfaces have been significantly shortened by the new 'ABS evo' and its integration with the new 6w-CDS sensor, ensuring greater repeatability of the braking action.
The 296 GTB breaks into the sports berlinetta segment with radical and innovative choices. The turbocharger in the "V" of the crankcase improves thermal management of the engine compartment and electrical components. On the 296 GTB, an active aerodynamic device at the rear aims to generate additional downforce.
The aerodynamics of the 296 GTB provides 10% more downforce than previously in LD (Low Drag) configuration, with a further 100 kg added thanks to the active HD (High Downforce) spoiler. What this means in practice is unprecedented handling, braking performance and driving excitement.